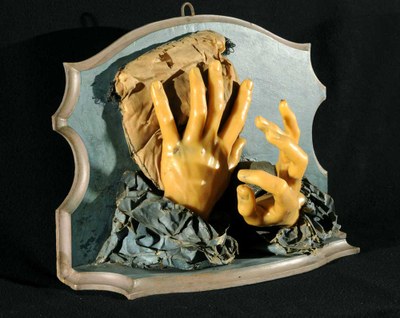 This tour focuses on the advances made in the field of medicine and how it was studied and practiced in the past. Two places will allow us to discover the history of medicine in one of the oldest universities of the world.

Anatomical dissections took place in Bologna since medieval times. In 1637 the Anatomical Theater of the Archiginnasio – once the main building of the University – was built. This became the place where doctors performed anatomical dissections. Autopsies were carried out in winter during the Carnival period. They were fundamental for the education of doctors, who could learn with their own eyes by observing the demonstrations made on the table located in the centre of the room. Anatomical parts, vascular systems and muscles were recreated as wax models for didactic and informative purposes by colleagues of doctors and scholars – wax modelers.

The first stop of our tour is the Museum of Palazzo Poggi. Here you can meet the artists and wax modelers from the school of Bologna, who recreated human anatomy in works made of wax and terracotta. You can admire works by Ercole Lelli, the creator of the "Camera della Notomia" (the anatomy room), as well as works by Anna Morandi and Giovanni Manzolini, including reproductions of sensory organs. You can also see works by Giovanni Antonio Galli, who was one of the first scholars to look at obstetrics as a medical science: he created revolutionary demonstration works made of terracotta which allowed students to observe how the fetus develops in the mother's womb and their birth.

The second stop is at the "Luigi Cattaneo" Anatomical Wax Collection. Here you can further appreciate the great technical ability and precision of the wax modelers. Among them, in the 19th century, Giuseppe Astorri and Cesare Bettini realized sections, organs and limbs of the human body, in line with the medical trends of that period, when huge interest was paid to birth defects and human pathologies. In the rooms of the museum you can see wax models, as well as astounding preparations, illustrated panels and documents used by the scientific community to keep a record of the studies made on alterations and diseases affecting the human species.
Museums and Collections included in the tour:
Museum of Palazzo Poggi, via Zamboni 33, Bologna
"Luigi Cattaneo" Anatomical Wax Collection, via Irnerio 48, Bologna